The Kenny Logan Page is in honour of our old Scottish chum, who just so happens to the Lengthiest of Lengths in all of International Rugby! At the end of the season the Cluub player with the most Logan Points wins the celebrated title of 'Kenny Of The Year'!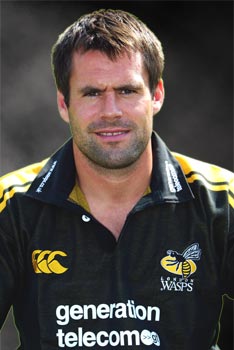 Here's how the Kenny Logan Points are worked out:
Knock-on- 1pt
Forward pass- 1pt
Gibbed kick (out of hand or at goal)- 1pt
Missed tackle- 1pt
Getting destroyed in a tackle- 1pt
Being substituted- 2pts
Any other horrendous act on the rugby pitch- 2pts
Heinous crimes (eg. uttering the number after, not paying subs)- 5pts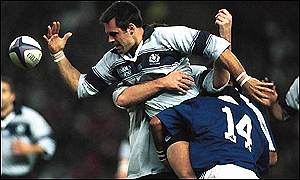 Our Kenny doing what he does best!
There is one saving grace with this scheme and that is the ANTI-Logan points! It must be noted that these are extremely rare and only awarded for moments of unbelievable genius on the pitch (ie. mahoosive tackle, awesome try, stupidly good kicking)!
For the whole year the chairman will be thinking of the best way to celebrate our best player( as ranked by Logan Table)